Why quality over quantity is so important to the Thompson Okanagan Tourism Association
TOTA is encouraging local businesses to become a 'Biosphere Committed Entity'
The Thompson Okanagan Tourism Association (TOTA) is hoping a historic designation awarded last fall is going to raise not the quantity of tourists in the area but the quality, says its president.
"We're not pursuing mass tourism," says Glenn Mandziuk, president and CEO of TOTA. "We're not trying to sell our soul to tourism for the sake of tourism. We don't just want to bring in volume; it's about quality and it's about people that want to come and respect what we have to offer."
Last year TOTA became the first destination in the Americas to receive the Biosphere Destination certification, handed out by the International Responsible Tourism Institute and the only designation to incorporate the United Nations (UN) 17 Sustainable Development Goals. In order to get it, TOTA had to successfully meet 137 sustainability benchmarks for standards such as affordable, clean energy and water use; human rights and social justice; gender equality; cultural diversity and equality and more. The Thompson Okanagan region is just one of around 20 regions in the world to have that certification.
To many, that may just sound like a bunch of buzzwords, which is why Mandziuk's latest undertaking is getting the word out to area residents, as well as tourists. He presented at Tuesday's city council meeting and spoke about the kind of opportunities this certification can provide. He also asked if the City of Kamloops would show its support on its website.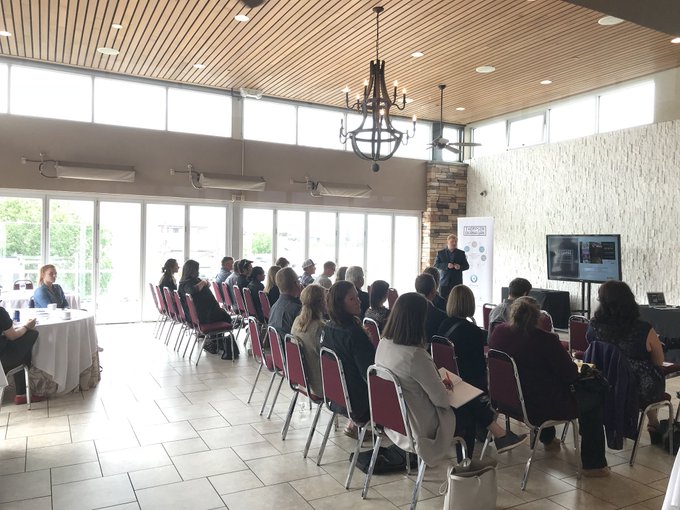 "I think that the ethos of respecting the bounty of geography we've been given is really good, but also the respect for the culture of the first peoples that occupied this territory and that sort of, having a soft footprint, resonated with me," says Mayor Ken Christian.
Mandziuk says the program looks at sustainability as more than "changing light bulbs in a hotel." It looks at all 17 areas of the U.N.'s sustainable goals. TOTA also reaches out to local organizations that represent causes aligned with those goals, like water quality, women's equality, women's enterprise and environmental organizations, to name a few.
"It means that we're going to try and attract the visitor that respects all those things," he says. "Those visitors will look at the map and say, 'Oh, this is a biosphere area.' People that are interested in that will come here, and those will be the people that want to respect our environment and our culture. They want to learn about it as opposed to going through the area and not really engaging with it."
TOTA has also begun rolling out its adhesion program with the local business community, where stakeholders in the tourism industry can become a "Biosphere Committed Entity." In order to get that designation, businesses will need to complete training and education, as well as prove they've met certain goals surrounding gender equality, responsible energy use and minimizing waste. (There's a cost of $250 to go through the program.)
"It's important for businesses to be exposed to what those goals mean. It's looking at the whole destination holistically. This would allow those destinations to distinguish themselves in the marketplace from the neighbouring jurisdictions. That starts to position us in a different way, which will by its very nature, attract more visitors to the area."
TOTA met with some local businesses on Wednesday (June 27) at Hotel 540 to try and recruit local support. In an effort to help out, Tourism Kamloops has agreed to co-sponsor the first round of businesses that wanted to sign up.
– with files from Brendan Kergin